This post brought to you by Atlantic Luggage. The content and opinions expressed below are that of Me And My Handful.
Family vactions are so important. It's a chance to make memories that last a lift time. Atlantic Luggage and Delta Vacations are offering a chance to win a family trip for four to New York or San Diego! That's right, thats a trip for 3 days and 2 nights valued at $3700! 
My husband and I just took a mini vacation to New York, and I am already wanting to go back! The plan was to each bring one carry on, and it was very difficult to fit everything in to them! Stratigic packing is an art that I am still learning. My husband travels for work, and he is much better at packing than I am! He rolls his shirts, a trick I never woud have thought of that, and I does let you fit much more in! The biggest concern I had on my trip was the saftey or my luggage. our plane was full, so we were forced to check our carry on bags that had soveniers on our way home. We had hoped to not check any bags, so we packed our carry ons quite full. I had wrapped the breakables in shirts for more padding. Thankfully, everything made it home in one piece, but it sure got me looking for something a little sturdier for the next time I travel.
Atlantic Luggage is lightweight, and even offers a 10 year warrenty on some of their luggage! I am really looking at the Atlantic Solstice. There are so many colors and styles to choose from!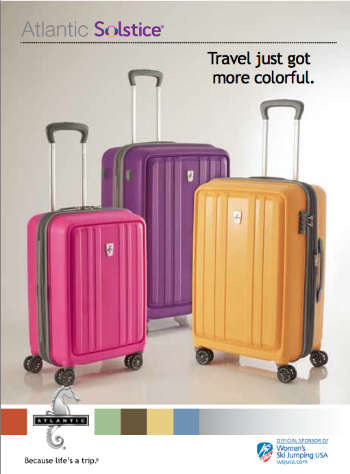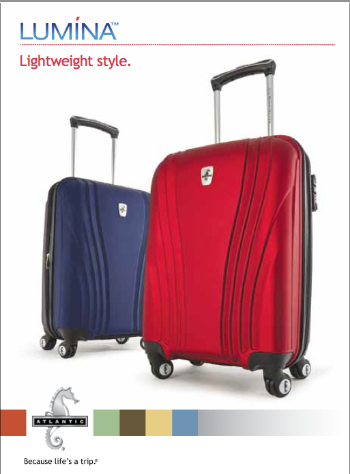 No matter what your style, there are optins available for you.
Enter to win a family trip that you will remember for a life time! The sweepstakes runs October 15 through November 15, so fill out your entry form now! What do you have to lose by entering? You never know, you might be the winner.